Get more Facebook Likes for your published papers
2014-05-17
When you publish a paper in an online journal, it is very likely that your paper will be read and cited by more number of people than that of a print journal. This way, you could build h-index of your paper quickly.
As one step ahead, we would like to use the power of social media to promote papers published in our journal. Whenever we publish a paper, we will post the same to our Facebook page, https://www.facebook.com/plantsciencetoday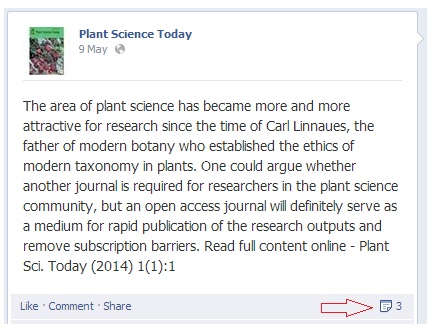 Author of the paper can click the Like button just below the post and Share the item for posting the same to their Facebook page. Total Likes (shown in red arrow above) of an article will be the sum of Likes in PST's official FB page mentioned above and Likes of your personal FB page. Those who could build more likes will win the prize!
The winner will get $100 publishing credit (or $100 as cash for countries waived from author fees).
Terms & conditions:
You should have published at least one paper in PST
You should have a Facebook account
You must have a ResearchGate account*
* If you do not have a ResearchGate account, you need to create one. You may start from
here
. Please note that ResearchGate has started indexing papers published in Plant Science Today. 
Start creating Likes! The due date and more details be announced soon here. Thanks for the continuing interest in our work.